Parking Structure/Lot - East Campus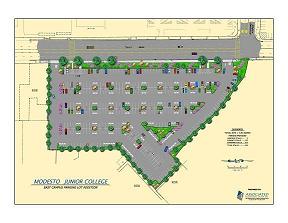 Project: Parking Structure/Lot
General Use: 455 total parking spaces in lot (net gain of 246 spaces)
Square Feet: N/A
Status: COMPLETE
Engineer: Associated Engineering, Inc.
Final Cost: $3,828,529
Construction Start: February 2009
Opening: August 2009
Project Goal
Provide additional parking at the East Campus in the most cost effective manner.
Update: February 8, 2008
YCCD purchased a 3.75 acre parcel of land on the west side of Tully Road for the expansion of a parking on Modesto Junior College's East Campus. The parcel is adjacent to land already owned by the district, part of which is currently developed as a 200-space parking lot. The new land allowed the district to add 237 parking spaces, bringing the lot total up to 455 spaces.
​Project Status Updates
There are currently no bulletins to view.
Earlier updates have been archived. Please contact the webmaster for access.
​Links of Interest
MJC Parking Study DRAFT, September 2005
MJC Parking Study, January 2006
MJC Parking Study Attachments A-F
MJC Parking Lot Presentation, August 2008
MJC Parking Lot Presentation, June 2009