Student IT Service Desk
The Information Technology Student Service Desk provides first-level technical support to all students of Modesto Junior College and Columbia College. We are available to assist you with various computer systems and provide telephone support as well as in-person assistance. It is our goal to support the students that use our systems so that their experience is less complicated.
The Student Service Desk is fully-staffed and available on the MJC West Campus. We can be reached by phone, email, or in person at this location. Some of the issues that we assist with are:
1. Account Issues & Password Reset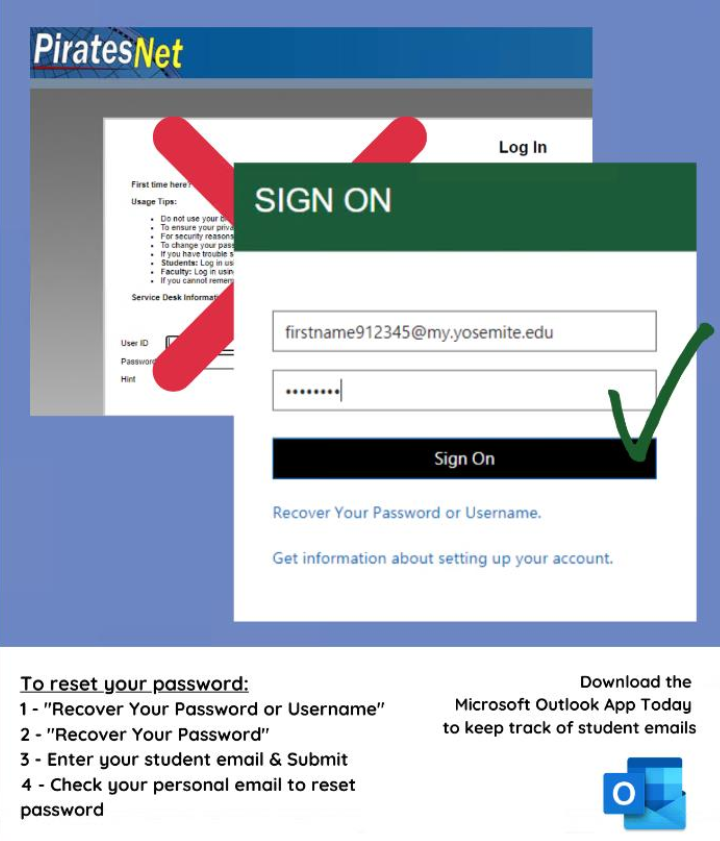 2. Single Sign on (@my.yosemite.edu)
Former students who don't have current student email account and want to access piratesnet/connectcolumbia need to contact Admissions office.
MJC
email: mjcadmissions@yosemite.edu
phone: 209-575-6853 or using livechat located on the main page of mjc.edu
Columbia
email: ccadmissions@yosemite.edu
phone: 209-588-5231
3. Username Lookup
4. Canvas Navigation and Technical Support
5. My Campus Permit Navigation

Note: This process takes 24 hours after you have registered your email before you will receive a link to set up your password.
6. Registration Navigation Issues
7. Wireless Issues
8. Mobile Device Assistance
9. Dell: YCCD employees and students purchase website
10. Microsoft Equipment: YCCD employee and students discount website to purchase Microsoft equipment

Other How-To Documents
  How to Save Email as a PDF
Demo's & Tutorials
  Campus Parking Permit
  Canvas First-time Use
  Getting Started with Canvas   
  Connect iPhone to Email
  Connect Mac to Email
  Set Up Student Email
  Setting Up Wifi
  Using Class Search
  What is OneDrive for Business?
  Accessing OneDrive through Office 365 
Address any problems or comments about this website to the YCCD IT Service Desk.